Author: Alize Hofmeester

As a passionate People & Change Executive, I help organizations to stay relevant to their customers, by reshaping their future way of working and facilitating a fresh mindset that leads to companywide flow and business agility. Over the years I have gained unique insights on how to introduce and transform companies into becoming successful and sustainable business-agility entities. By putting people in the center of my methodology and thus unlocking the infinite human potential within an organization, I am able to ignite new ways of working and thinking in large and complex organizations.
One thing is for sure: only changing the structure or implementing a new model does not make your organization Agile. I strongly believe if you are able to facilitate the right environment where people can experiment, learn, and improve, magical things will happen. That means that everyone in the organization has to be willing to be involved and wants to build this new aspired environment.
After a career in banking, management consulting, healthcare, and recruitment I started a new chapter as the founder of Twinxter and The People Journey Circle©. In this capacity, I advise boardroom leaders and transformation teams on how to reshape company structures and train them on mindset, leadership and the people side of change. Besides this I facilitate coach- and training sessions for forthcoming changes in mindset and related business agile transformations – all based on the People Journey Circle© model. In addition, I am frequently invited as keynote speaker and am an active member of several global communities.
You have helped with many Business Agile transformations. How would you position the agile maturity of companies you have encountered in the market?
We know for several years now that the world we are living and working in is changing rapidly. Knowing this does not necessarily mean that we feel the urgency to adapt to this change. This year our world did change with a big bang. COVID-19 tremendously impacted the way we work and live together. If you were not already thinking about a different way of working, then you are now forced to take immediate action and respond to the swiftly changing needs of customers and employees. Now that we are well underway with dealing with this crisis, it is becoming very clear that companies that had already embarked on the journey to Business Agility were far better able to respond and adapt to these new challenges than organizations that had not yet started.
The Business Agility Institute's annual Business Agility Report 2020 gives us an intriguing look behind the scenes at 359 companies in different industries across the globe that are all on the journey to Business Agility. Given the drastic changes the world has seen this year, the 2020 report presents several remarkable findings. Year on year, overall agile maturity has increased by 8%. COVID-19 has acted as a forcing function on organizations around the world that, with the exception of North America, reported an average maturity increase of 15% post COVID-19. While more data is required, companies believe that improving Business Agility across the entire organization enabled them to respond more effectively to COVID-19 and therefore to changing circumstances.
This report confirms the insights I already gained from the companies I have encountered in the last couple of years. Because of their level of maturity, they were able to respond and adapt faster. Some organizations immediately asked their customers what they needed and were able to turn around a complete product line in just a couple of weeks. Facility departments in hospitals reduced the time they needed to reorganize entire departments into COVID care departments from 3 months to only 3 weeks. A related customer explained that although it was not easy, they were able to do so because they all had a shared purpose and focus.
More and more companies are heading towards a more agile operating model. And yes, that is still a real possibility even while everyone is working virtually. But a transformation cannot be performed as in a cookbook, every organization has its own challenges and learnings. That makes it also valuable and fun for me as an agile thought leader to not only add value, but also learn and gain new insights. So, we all can help each other along our collective journey to the future of work.
At a certain moment, you decided to start Twinxter and write a book about your experience in Business Agile transformations. Why did you do that, there are already so many books on agility?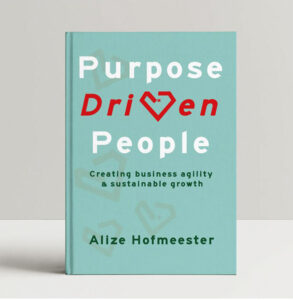 After closing another exciting and successful transition and charging myself up at the beach for new adventures, it was when I realized what a tremendous journey I had made so far. Leading various agile transitions has benefited me greatly on a professional, as
well as personal level. It is the kind of experience I would like everyone to have. Throughout the years I learned what Agile and agility are truly all about. It is not only about a different way of working together, but it is also about values and principles and a different way of thinking. It is for example about working towards a shared goal, building up trust with your fellow team members, based on the shared knowledge that what you are working on has meaning and adds value for others, colleagues and customers. And perhaps the most important things I had learned was to think in terms of possibilities and alternative strategies and that I am personally responsible for the things I do or decide not to do. That lead me to think about whether I was working on things that truly satisfied me and that created value for others and myself.
That's when I discovered my personal purpose. The moment I discovered that, it became crystal clear to me what I am actually passionate about and where I want to create value. What it has brought me is the courage to make different choices. That can be daunting at times but overcoming something daunting is very rewarding and a tremendous learning opportunity.
As I was working on my book, I regularly stopped writing, thinking that everything I was writing was common knowledge already. But by now I know better. In my profession I still often encounter organizations that copy the model, structure, working methods of other companies that have already started on their transition towards business agility. What these organizations do not realize is that they actually are a totally different and unique organization, department, or team, home to different people with an entirely different purpose. Trying to copy what others have done will only lead to their transformation grinding to a halt or failing miserably, which has serious consequences. Realizing that the questions I keep getting as I lead business transitions are the same questions I received many years ago, I decided to keep writing and share my story to help people and organizations on their journey to business agility.
What is the main message in your book that you want to bring forward?
The journey to agility is about people and purpose. People are the beating heart of your organization, of the system, and everyone is part of that system. Everything else is subordinate to that and should facilitate people to deliver value and be relevant. A transition to more agility takes time and may be uncomfortable. Learn from that discomfort and improve. In order to react more quickly to volatile market conditions and customer or employee demands, implementing agile models and methodologies is one thing. Being truly agile from the heart of the organization is another. Impossible? Definitely not.
Certainly, in times like we face today, where COVID-19 causes a major crisis, it has become painfully clear that companies that have already moved to or are on their journey towards Business Agility, are much better equipped to deal with these kind of volatile situations and stand a much better chance to overcome these kinds of predicaments. With my book I want to give companies easy tools and stories, first-hand practices, case studies and the 7 elements of the People Journey Circle© to help them and the people in the organization, further on their journey to become truly business agile and achieve sustainable growth.
In what way would you like to help the ones that have read your book and ask for support?
Business Agility is not something that comes easily. It is not a trick you can copy-paste from another company. For me, Business Agility is an art. An art I understand very well and which I would like to share with others who want to start their own journey. I help them explore and shape their way of working and thinking so they will be prepared for an unpredictable future. I have created multiple facets of support for companies and people who want to transform their company into a Business Agile entity. First of all, as you mentioned, there is my book Purpose Driven People. This offers a comprehensive guide on how to achieve Business Agility by using the method of the People Journey Circle©. The second part is my company Twinxter. Twinxter is a boutique consultancy where we advise and support boardroom leaders and transformation teams on how to reshape company structures and train them on mindset, leadership and the people side of change.
We have also created Twinxter Academy. Here we provide workshops and train people in the elements of People Journey Circle© so when they go back to their organization, they are able to start working internally on their own journey towards Business Agility. Furthermore, when speaking as a keynote during conferences I aim to spread the word on purpose-driven people and organizations.
In closing, I would say that we are always open to working in partnerships with others if the right opportunity presents itself and results in delivering value to potential customers. I strongly believe in doing things together and making use of the collective of the crowd and communities. The Agile People network and the Business Agility Community for instance proved to be strong bounds during challenging times. It is incredible to experience the power and creativity of these communities when you are open to actively participate, experiment and learn.
Now, what do you envision for Twinxter and yourself?
Currently, I am frequently being asked by large corporations to assist them with their Business Agile ambitions and to help them get started with their journey. In a few years from now, I would like Twinxter to have grown and become a household name in delivering cutting-edge and innovative support for companies who aspire a Business Agile transformation.
Twinxter facilitators will have trained a growing number of people in the methodology of the People Journey Circle©. Certified participants value the methodology, find their unique way to experiment with it, learn, improve and spread the word.
Purpose Driven People is a community of passionate, curious people who share their practices and ideas. They experiment together, learn continuously and build a sustainable future.
I imagine that Tess, the character in my book and lead of the transition team heads to new adventures in a community and ecosystem that cares for other communities, people and society in general. That she stays true to her purpose and helps reshape the system. Maybe she even becomes a character in a new book or movie?
Most of all, for myself I hope to stay true to my purpose and passion and stay happy and healthy with the people around me, who are always in my heart. That is the greatest value of all. Shall I continue dreaming?
To finish of; what would be your message towards leaders that read your book and consider to implement the ideas?
Well, as I said before, the journey to agility is all about people and purpose. Those people form the center of your organization – the heart. Without them the or network does not exist. Understanding and acknowledging that, is the first step towards any successful transition. Don't worry too much about getting it right the first time around. It will be a continuous and iterative process. And yes, mistakes will be made and it will be uncomfortable for some. But if you are serious about your ambition and you want to work towards Business Agility and sustainable growth, we are here to help and support you. Get in touch and we'll see how we can accommodate your needs. For now, please enjoy reading Purpose Driven People, as I did when writing it and I'll be happy to answer any of the questions you might have.
More information
For more information, please visit the website on Purpose Driven People or contact Alize Hofmeester.
---