Interview with Royal BAM Group


An agile transformation is never an objective in itself. It is always an enabler to achieve something else. For a lot of organisations, this boils down to becoming more adaptive to change, transforming toward digitalization and building a great place to work. There are numerous examples of organisations embarking on their agile journey for this reason. In this article, we will deep dive into the agile journey of Royal BAM Group.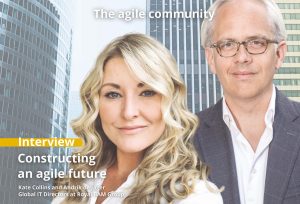 Although the majority of the stories we hear about agile journeys comes from the services sector, BAM shows how relevant it is for a construction company too. In May 2020, Hans van Leeuwen and Henk Venema (both partners at Inspinity) were privileged to speak with Kate Collins and Andrik de Jager, both Global Directors IT at Royal BAM Group.
BAM's mission is to create sustainable environments that enhance lives by enabling the right people to capitalise on state-of-the-art knowledge, resources and digital technologies, providing solutions across the total construction life cycle. Andrik says: 'As disruption (from things like climate change and new trends in building technology, etc.) becomes more pervasive, BAM is adapting – we increasingly need the ability to change course in real time based on current market realities. For BAM IT, this means being able to develop and deliver multiple IT innovations and enhancements, rapidly measure their effectiveness, and learn from their successes and failures in real time – precisely what an agile way of working has to offer. The agile way of working empowers and unlocks the full capability of the organisation's talent to deliver incremental and controlled changes aligned to customer needs, accelerating change and innovation and driving digitalisation forward.'
Kate: 'Everyone who works for BAM companies around the world is guided by four values that help to deliver the best building for our clients and the people who will use it, namely: predictable performance, proactive ownership, open collaboration and scalable learning. In fact, the agile way of working underpins these values in every way.'
The BAM agile journey – What are the benefits of agile working for BAM?
Agile working was first introduced in a part of the IT organisation, namely Digital Information Services (DIS) at BAM Infra, BAM's Dutch civil engineering company. The idea was to start small, since agile wasn't commonly used in the construction industry at that point.
Andrik: 'The team – made up of a unit of nine Application DevOps teams – has taken successful steps in creating an agile organisation, in structure, in process and in mindset. The result is an organisation that has become more productive, delivers value to the business incrementally and faster. They've eliminated waste and have a stronger business-IT alignment, and importantly, the employees feel their organisation is a great place to work. The atmosphere is one of energy and vibe. Business management is really pleased with IM's progress and sees it as a promise of more to come.'
Kate: 'This success has been embraced by IT senior management. And so this year, the journey continues throughout the whole of IT, in a controlled step-by-step way. The IT leadership team has formulated the guiding agile way-of- working principles, which are the basis for the rest of the journey. At BAM Infra Nederland, we are on the final wave of the journey: implementing agile demand and portfolio management, effective in 2020. At BAM's operating company BAM Bouw en Vastgoed, some teams have already started the journey, aiming to implement agile in their structure, process and mindset. The Global HR value stream is also running in the agile mode, delivering global HR applications as part of a global transformation programme. And in the other IT units, like cyber security, we're just beginning, step by step, team by team.'
Traditionally, the business used the linear management approach for its projects – the waterfall methodology. For example, the tendering phase starts for the bigger construction projects far in advance of the design phase. Switching to the agile methodology for these projects is a long process, not just because of the complex portfolio of projects, but also because of the prejudices and myths around agile. But seeing how agile principles fit so well with BAM's values and ambitions, they were keen to start small and let the results speak for themselves. And they did, for example adapting the agile way of working in the tendering process. The impact of a successful agile showcase at the DIS team at BAM Infra after little over one year was big. Not only because they were able to increase predictability and time to market, but they also demonstrated better alignment and collaboration between IT and the business. According to Kate, it was so important to actually 'see it in action'.
Multiple disciplines working together efficiently towards shared goals
One of the BAM values is proactive ownership. With a clear explanation of the strategy, the agile teams were able to perform a proper epic prioritisation. So instead of the traditional way of pushing work into the teams, the teams were able to pull the work as a result of the business strategy and business prioritisation. In reality this sounds easier than it is. Project managers, for instance, had to adapt to this way of working. After explaining to the teams what was needed and why, it was very tempting to also tell them how it should be done. But once the teams began to feel more experienced and confident in taking control, the various disciplines, previously separated, grew a close partnership built on mutual trust. And as they discovered, working together is more fun! They were learning a lot from each other and having a good time in the process. Another agile benefit considered very relevant for BAM is that it enables a strong and constant collaboration. Constant in the sense of working in short delivery cycles with room for feedback and increased speed of delivering value. After every set of sprints, business and IT sit together again, exploring what was learned from the delivery and its value and benefits, in order to define an updated guidance from the business. Kate's eyes light up when talking about what they have achieved so far: 'Looking at the results, everybody feels part of the success and proud of their involvement.'
Enabling BAM to quickly adapt to changes
Central hallmarks of agile are speeding up digital delivery and the ability to quickly implement changes. Unfortunately, a less-than-welcome test of the speed and adaptability of organisations arrived recently with the coronavirus pandemic. Because of Covid-19, the whole world was suddenly disrupted, and that was no different for BAM, where the impact and changes required were substantial. But Andrik noticed that in those areas of BAM where agile ways of working were implemented, they were able to react to the Covid-19 challenges considerably faster. They were able to strongly shift priorities in and adapt the plans time and again, depending on the evolving and complex circumstances.
In the agile running teams (value streams), like the Global HR value stream, it was easier to adapt to the new reality. By reprioritising and setting new goals, the agile teams were able to scale down quickly (and reduce costs) and keep delivering value for the business. This response to the Covid-19 situation by the agile teams was also very beneficial in showing predictability toward the business.
Attracting and retaining talent
An environment where you are valued for your talents and craftmanship combined with an atmosphere where continuous learning is encouraged attracts good people. Agile hones the ability to test IT solutions, rapidly measure effectiveness and learn from their successes and failures in real time.
These skills and abilities are important for all large organisations, not just for BAM. As such, everyone is out there searching for good IT professionals to deliver the best possible results, and they are hard to get and hard to keep! From its new agile experience, BAM has seen how it inspires its own IT staff and hopes it will make it attractive to new staff as the hunt for top talent continues.
Another benefit is transparency
Transparency is important for senior management as well as the teams. They both want to know what they can expect. According to Kate and Andrik, the level of transparency has increased substantially in the agile organised teams across BAM.
The agile approach within BAM helps to give clear insights not only on a weekly basis on an operational level, but also on board level. In epic prioritisation sessions at BAM Infra Nederland, the teams give full insights into business priorities and aligned prioritisation in IT value stream delivery. It balances individual priorities with BAM priorities, based on overall business value.
'What also helps in terms of transparency is the timely delivery by IT, the good quality of what is delivered and the delivery in small increments. All this is helping the business. Transparency also reveals that, despite the benefits, it's fair to say that the agile journey has not been a walk in the park, and there is still much to learn, improve and mature. Transforming into an agile organisation is relevant and doable, also in an industry like construction where the original mindset is waterfall based', says Kate.
Andrik continues: 'Although the transformation is not yet finished at BAM, the results so far already show the improvements in collaboration, transparency, predictability and time to market. It definitely enables BAM to respond more quickly and appropriately toward new challenges in the industry, while creating a great place to work at the same time. After all we are building the present, creating the future – we are improving the performance of today's business and prepare for tomorrow's challenges and opportunities.'
About Royal BAM
In 2018, Inspinity partners Marcel Riemersma and Vincent Snijder guided the Digital Information Services Unit of BAM Infra on their journey into agile. Since then, Inspinity is helping drive the agile transformation at BAM.
Royal BAM Group is a construction company with ten operating companies, active in construction and property, civil engineering, as well as in public-private partnerships. BAM has leading positions in five European home markets: the Netherlands, Belgium, United Kingdom, Ireland and Germany. Furthermore, the Group delivers projects in Denmark, Luxembourg and Switzerland, while BAM International operates in niche markets worldwide. Sustainability and innovation are major drivers of BAM's design, construction and facility management solutions. The Group aspires to become the market leader in the use of digital technology to ensure that clients receive the highest possible standard of quality. BAM has annual revenues of more than €7.2 billion, employs approximately19,000 people and is listed on Euronext Amsterdam. Check www.bam.com for more information.
Andrik de Jager is responsible for Digital Information Services, covering Application Development & Services and innovation.
Kate Collins is responsible for Strategic IT Delivery, covering Project, Program and Portfolio management.